Our Homepage has all our mainline offers, simply click on each dated link to see deals for that day.
Text Gary +44 (0) 7909 991442 to receive our offers daily via What's App, or click below to talk to me now.


Read below to see our more exclusive offers!
Our extensive experience in the retail market and undisputed reputation for top quality and service has formed excellent contacts in the industry, with some of the finest Blue Chip retailers and Manufacturers. This allows us to offer a second to none service to our clients, as you can see by our Testimonials.
Acting purely as a broker, keeping overheads minimal, allows us to offer you the most competitive prices. Our Policy is to NEVER warehouse stock, but to organise goods to go directly from the supplier to your door. This GUARANTEES untouched stock so you don't lose the cream of your load!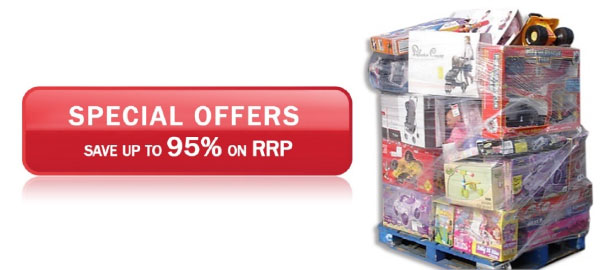 Some of the larger retailers we work with request us not to promote their clearance on the Internet.
If you wish to see these individual offers on a non-circulation basis please contact us asking for:
DIY – If you wish to see New & Return truck loads from a leading UK DIY Chain
Electrical – New & Return truck loads from a leading UK electrical Chain
Flatpack Furniture – If this is your business talk to us, it's a speciality of ours!
Export Deals – New pallet stock, can't be advertised or Bought by UK clients
Below are some examples of the main categories we sell:
Categories
New/Graded/Returns: White Goods, Electrical, Mobiles, S&V, Generators, Mixed Loads, Household, Furniture, Sofas, Mattresses, Beds, Sport/Leisure , Bikes, Garden, Toys, Clothing/Footwear, Cosmetics/Jewellery and Many more…
Still not found what you are looking for?
If you have specific needs, please do Contact Us and we will source that product for you.